Akoya delivers creative, practical communication strategies and multimedia content to help you change minds, engage customers and stakeholders, and deliver results.
Do you need a go-to team to improve your program's internal and external messaging? Do you need technical content translated for a lay audience? Do you need to engage ancillary organizations to further your mission?
That's our business. We're a women-owned boutique communications firm. And we've been doing this for more than 20 years.
Our Services
When it comes to strategic communications, our clients tell us we just get it. We know words can inspire action. We've seen storytelling inspire culture change. We have the experience and energy to build the plan and the tools you need.
Akoya is a WBENC-certified woman-owned small business, headquartered in Pittsburgh, Pennsylvania.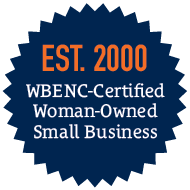 "Akoya has been a huge asset during the transition."